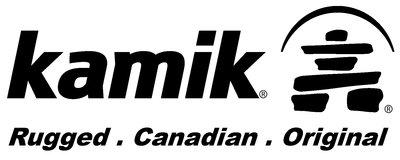 Kamik - Chuck Black WP
Online Price: $69.00 CAD

Because all kids love swishing their legs through snow, our Chuck winter boots are made with waterproof seam-sealed construction. Add in 3M™ Thinsulate™ insulation and these super-warm winter boots are perfect for an afternoon of building snow tunnels. NiteRays reflective patches add visibility after dark, and the Easy-Grab Lace Lock secures them in seconds.
Keep warm in frosty weather with 200B 3M™ Thinsulate™ Insulation, providing 1.5 times the warmth of down. Perfect for cool conditions or high activity levels.
Keep the elements out of your footwear with our easy pull-tab and knob on our bungee laces, cinch it tight at the opening of your shoes.
Our NiteRays reflective binding and patches allow you to continue to work or play safely after the sun sets.
Our Waterproof seam-sealed boots are made to seal out snow and water. All of the materials and seams are specially treated to block moisture and keep your feet totally dry all day long.
This product is made without materials from animal byproducts, nor was it tested on animals
NON-REMOVABLE INSOLE
NON-REMOVABLE LINER
Product Code: NF4149
Factory Shoe Name: CHUCK